| | |
| --- | --- |
| Posted by Admin on June 4, 2014 at 11:20 PM | |
Decius
Împăratul Gaius Messius Quintus Decius s-a născut în jurul anului 190 în satul Budalia de lîngă Sirmium, acutala Sremska-Mitrovița din Serbia, într-o familie avută. Prenumele Messius indică o origine sau o tradiție moesică a familiei. S-a căsătorit cu Herennia Cupressenia Etruscilla, aparținând unei familii aristocratice vechi de origine etruscă, ceea ce l-a ajutat în cariera politică.
Când Philip Arabul, de teama colapsului imperiului în fața revoltelor și atacurilor "barbarilor" de la nord de Dunăre, și-a oferit demisia în fața senatului din Roma în anul 248, Decius, prefect al Romei pe atunci a insistat să rămână la putere căci altfel uzurpatorii sigur ar fi fost uciși de propriile trupe. Curând apoi a acceptat comanda trupelor de la Dunăre, formate din geți, tradițional cele mai bune din imperiu, pentru a opri invazia fraților daci și goți în sudul Dunării. S-a dovedit un comandant destoinic, poate prea destoinic, astfel că a fost proclamat împărat de armata sa, aparent împotriva propriei voințe, după cum ne relatează istoricul Zosimos. A vrut să-l reasigure pe Philip de loialitatea sa, dar acesta a venit cu propria armată spre nord pentru a-l ucide pe Decius. În toamna anului 249 la Verona, cele două armate s-au înfruntat cu victoria categorică a geților lui Decius, care astfel a rămas singur pe tron.
Experiența sa ca senator și apoi prefect al Romei l-a ajutat să cunoască politica murdară a grupurilor de interese, care acum poartă numele de "lobby-uri", grupuri care încercau să pună mâna pe frâiele imperiului, numai prin vicleșuguri, uneltiri, trădări. În încercarea sa de a reorganiza statul și decis să nu se lase prizonierul sau păpuşa acestor găşti, getul Decius a dat un decret prin care îi obliga pe toţi supuşii imperiului să se prezinte în faţa unei comisii formate din cinci membri şi să aducă o ofrandă zeilor, pentru ca, în felul aceasta să-şi dovedească ataşamentul faţă de cultul oficial de stat, religia lui Mitra. Urmau să primească un certificat imperial în acest sens numit libellus. Majoritatea celor care au fost chemaţi la mărturisire, au respectat dorinţa împăratului dar unii s-au arătat habotnici şi au plătit cu viaţa, fiind ucişi episcopii de Antiohia şi Ierusalim precum şi cel de Roma iar circa opt mii de creştini au fost trimişi la muncă silnică, informaţia ajutîndu-ne să apreciem clar asupra numărului real al celor ce îşi spuneau iudeo-creştini (ariminia.ro).
Tradiția creștină l-a păstrat pe Decius ca un mare prigonitor al credincioșilor, "doar pentru că erau creștini", fiind numit "tiran feroce", dar documentele istorice demonstrează că el nu a discriminat pe creștini în mod particular, ci doar a încercat să restaureze ordinea în stat, inclusiv prin revenirea la religia tradițională oficială, adică "mitraismul" getic, considerându-se "restauratorul Daciei". Nu vreau să rănesc sentimentele creștinilor de azi, dar trebuie să amintesc că modul în care istoricii creștini l-au înfățișat pe Decius este vădit partinic și exagerat. S-au descoperit o serie de "libelli" din epocă, iar ca exemplu vă dau un mic citat dintr-unul care o privea pe Aurelia Ammonous din Egipt, care se auto intitula "...preoteasă a zeului Petesouchos...și preoteasă a zeilor din cartierul Moeris...", care numai de creștinism nu putea fi învinuită. Mai mult chiar, nu apărea numele zeului Mitra sau Sol Invinctus, ci doar se spunea că obiectele de sacrifiu erau în favoarea zeilor tradiționali romani, inclusiv foștii împărați care fuseseră zeificați. Era folosită o formulă tipică, de genul: "Către comisia aleasă să verifice sacrificiile. De la Aurelius Asesis, fiul lui Serenus din satul Theadepphia [în Egypt]. Eu dintotdeauna și fără întrerupere am sacrificat zeilor, iar acum în prezența voastră, în conformitate cu stipulările edictului am turnat o libație și am sacrificat victimelor sacre. Vă solicit să certificați acest lucru mai jos". Documentul este datat 12 iunie 250. Scopul decretului este de a liniști lucrurile în imperiu și de a restabili ordinea și disciplina. Nu s-a confiscat nici o proprietate a bisericii creștine, iar credincioșii erau lăsați să își practice religia în închisori, în așteptarea judecății.
În timpul scurtei sale domnii a demarat mai multe proiecte edilitare în Roma, inclusiv faimoasele "Thermae Dacianae", băile lui Decius, terminate în 252 și care au rămas în picioare până în secolul al XVI-lea. A reparat și Colosseumul avariat de un fulger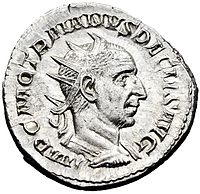 .
"Antoninian" cu chipul lui Decius.
Conform lui D.S. Potter (The Roman Empire at Bay AD 180–395, 2004, p.243, v. wikipedia), Decius nu a încercat să impună religia sa ca dominantă, ci a încercat să-și legitimeze poziția și să răspundă dorințelor maselor în așteptarea sărbărtoirii a 1000 ani de la fundarea Romei (an 753 î.H). Spre sfârșitul anului 250, "ferocitatea persecuției [anti-creștine] a încetat, iar tradiția mai veche a toleranței a început să se reinstaureze" (Chris Scarre, Chronicle of the Roman Emperors: the reign-by-reign record of the rulers of Imperial Rome, 1995, p.170). Edictele lui Decius au fost reînnoite sub Valerian în 253 și fiul său, Gallienus, în 260.
În fața amenințării apărute în Moesia datorită invaziei goților, carpilor și dacilor liberi, Decius l-a lăsat pe senatorul Publius Licinius Valerianus să se ocupe de treburile administartive, și-a proclamat fiul, Herennius Etruscus împărat junior, și-a strâns trupele și a plecat să facă ordine, însoțit de fiul său. În urma unor succese împotriva barbarilor și-a ridicat fiul Herrenius la rang de augustus, iar pe un altul, Hostilianus aflat la Roma, l-a proclamat împărat junior (cezar).
În timp ce se afla în Moesia, la Roma unii senatori în frunte cu Licianus au pus de o uzurpare, adică făceau ceea ce învățaseră la școala vieții din senatul roman. Revolta a fost grabnic înnăbușită, probabil de acțiunea energică a lui Valerian.
Dar în vara anului următor invadatorii apar iarăși de la nord de Dunăre, iar în bătălia de la Abrittus, pe undeva prin Dobrogea noastră, a fost ucis atât el cât și Herrenius. Decius a fost primul împărat roman căzut pe câmpul de luptă într-o bătălie cu armate străine, fapte pentru care, atât el cât și fiul său au fost zeificați de către senat, care mai înainte i-a dat și numele de Traianus, în memoria împăratului de la începutul secolului al II-lea. Sigur, istoria pe atunci ca și acum de altfel, era într-o rescriere continuă. Gallus care l-a urmat la tron pe Decius devine augustus, în timp ce Hostilian rămâne cezar, dar la scurt timp Gallus îl numește pe Hostilian augustus alături pe el, iar pe fiul său Volusian, cezar. Despre Hostilian se spune că a murit în timpul plăgii din august 251, imediat după ce, surpriză!, Gallus a ordonat damnatio memoriae împotriva lui Decius și familiei sale. Această damnatio memoriae presupunea și ștergerea numelor de pe inscripții, și s-au găsit câteva cu numele lui Decius și al fiilor săi șterse, dar nu prea multe, față de cele cu numele lui Philip Arabul, spre exemplu, iar în unele chiar s-a revenit, ceea ce dovedește că decretul lui Gallus nu s-a bucurat de entuziasmul popular, iar eroismul și priceperea lui Decius au fost bine apreciate de contemporani. În scurta lui stăpânire, Decius a fost confruntat cu numeroase încercări: invazii, uzurpări, ciumă, după ce a preluat un imperiu aflat în colaps economic și religios.
Conform istoriografiei oficiale goții conduși de Cniva erau de origine germanică, dar titlurile căpătate de Decius în urma campaniei din Moesia din 250 a fost de Dacicus Maximus și restitutor daciarum și nu de Ghotorum sau Germanicum Maximus. Dacii nu visau decât la eliberarea patriei lor atît la nord cât și la sud de Istru, lucru care avea să se întâmple sub Regalian, câțiva ani mai târziu, în 258. Despre acest lucru am vorbit pe larg într-un articol a apărut în nr. 141, martie 2013 al acestei publicații, așa că nu voi mai reveni. Articolul poate fi citit și pe saitul www.getbeget.org.
După moartea lui Decius nu mai avem informaţii dacă creştinismul arimin a mai fost cult oficial pentru împăraţii romani Trebonianus Gallus (251-253) şi Valerian (253-260) împreună cu fiul său Gallienus (253-268).
Aureolus
După cum am văzut, secolul al III-lea, în special în a doua jumătate a sa, a fost secolul crizelor politice în Imperiul Roman, când s-au succedat la tron o mulţime de împăraţi, majoritatea comandanţi militari sprijiniţi de legiunile lor.
Marcus Acilius Aureolus a fost un dac provenit dintr-o familie de ciobani din Carpaţi, el însuşi păstor în tinereţe. Istoricul bizantin Zonaras scrie: "Aureolus era din ţara getică, numită mai târziu Dacia, şi de neam obscur, fiind mai întâi păstor…". Deci el provenea chiar din Dacia de la nordul Dunării. Informațiile păstrate despre el sunt sărace. Găsim câteva date în Historia Augusta, Zonaras și Zosimus. Aceste date au fost sintetizate de John Bray în biografia lui Gallienus, din care spicuim câte ceva.
A intrat în armata romană de tânăr, ca soldat de rând, cum făceau mulți daci pe atunci, şi a câştigat simpatia împăratului Valerianus, care îl numeşte îngrijitor al cavaleriei. S-a dovedit a fi unul dintre cei mai străluciți și inventivi ostași din epocă. Datorită comportamentului său, a regulilor stricte pe care le-a intodus în îngrijirea cavaleriei câştigă şi încrederea împăratului Gallienus, care îl numeşte în fruntea câtorva legiuni. Se spune că era ambidextru, care desigur era un mare avantaj în armată, dar poate fi o referire la caracterul său duplicitar. Îl găsim luptând la Mursa (azi Osijek, în Croația) în 258 împotriva unui alt dac, Ingenuus care se afla în fruntea armatei care pactizase cu răsculații din provinciile sud-dunărene, dar despre acestea am vorbit mai demult în capitolul dedicat lui Regalian.
În anul 265 este trimis de împărat să lupte împotriva lui Postumus în Galia, care se răzvrătise contra Romei. Însă Aureolus s-a aliat cu acesta împotriva lui Gallienus și i-a propus chiar sprijin pentru a-l face împărat. Nu se știe de ce, dar Postumus ignoră invitația lui Aureolus. Împăratul Gallienus porneşte cu legiunile sale împotriva dacului proclamat împărat de către legiunile sale în anul 268, la Mediolanum - Milano, pe care însă îl învinge într-o luptă pe râul Adda din apropiere, într-un loc cunoscut peste secole cu numele Pontirilo de la Ponto Aureoli – Podul lui Aureolus. Aureolus se retrage la Mediolanum, dar în asediul ce urmează cel care moare este Gallienus, iar dacul şi-a păstrat titlul, până în vremea lui Aurelian. El a fost până la urmă tradat si ucis, de proprii lui soldați.
Marius Fincă
Acest articol a apărut în ZIG-ZAG român-canadian, nr. 166, mai 2014
Categories: Istorie veche